Full of personality and timeless elegance, we all love a herringbone pattern floor.
And with Palio Express by Karndean luxury vinyl tile (LVT) flooring you can get the herringbone style you love in a format you can install yourself.
Whether you're looking for a wood effect plank or a stone look tile, our herringbone LVT flooring brings you all the beauty of this iconic laying pattern in an easy-fit format.
The perfect floor for today's busy lives. Guaranteed.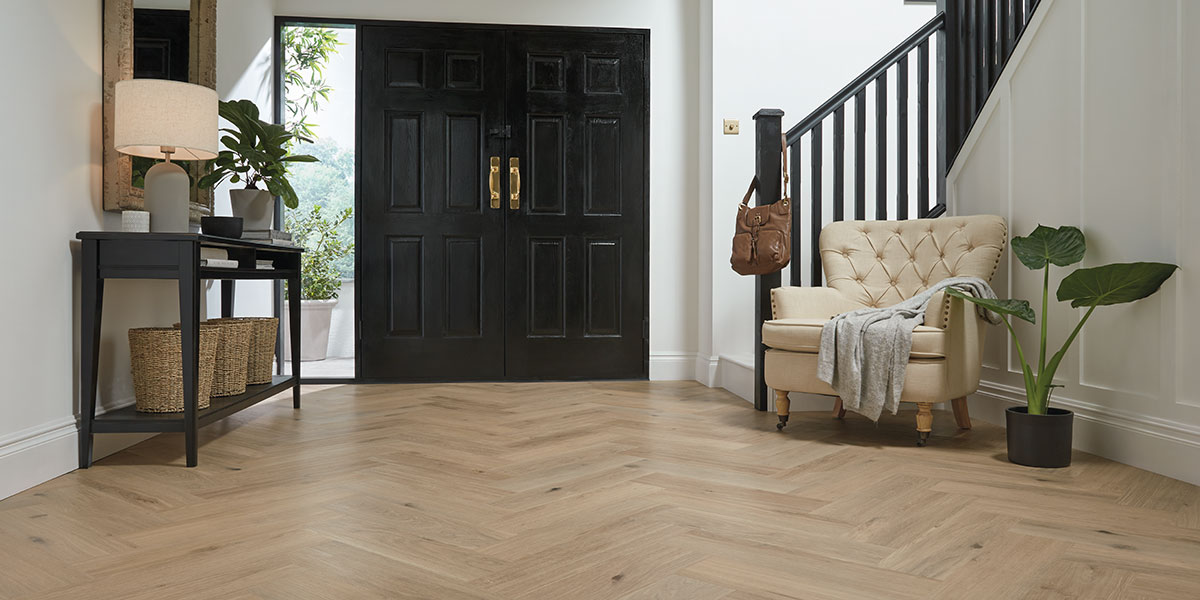 Floor pictured: Canadian Urban Oak
Why choose LVT?
Luxury vinyl tile flooring is the modern alternative to laminate. When you fit a Palio Express LVT herringbone floor you don't just get an authentic wood or stone look in a convenient format that's perfect for DIY installation. There's also the hard wearing, waterproof surface that's a doddle to keep hygienically clean and is super cosy under bare feet, not to mention an integrated acoustic layer to rooms below that keeps your home quiet and relaxing.
Be proud of your DIY
Can I fit it myself? Of course you can. With Palio Express, fitting your own floor has never been easier. You'll be amazed at what you can achieve. Trust us.
With a few basic tools and our step-by-step installation guide and video, your home can ooze sophistication and a seamless sense of flow in no time at all. But don't take our word for it, visit our Real Homes Gallery and be inspired by our customers' beautiful DIY floors.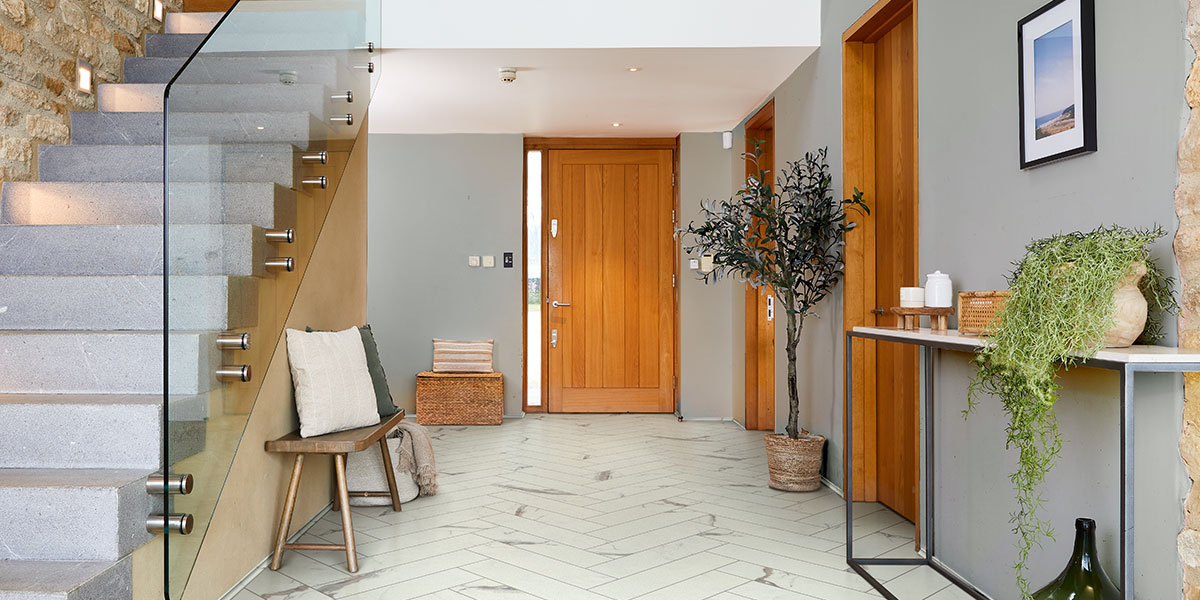 Floor pictured: Brunella Marble
Versatile style
Our rigid core floors feature a click-locking mechanism that makes it oh so simple to install a mesmerising herringbone floor, even over an uneven or drying surface.
Browse our Korlok range and you'll find gorgeous herringbone planks in Texas White Ash, featuring a fresh and modern neutral colour palette, as well as Canadian Urban Oak with its stunning grain details and warm blond colouring.
Or perhaps you yearn for the undeniable luxury of marble. In which case, you'll simply love the cool elegance of our Brunella Marble herringbone tile.
For the cherry on the cake, you can even combine your favourite herringbone design with a matching full-sized plank or tile in other rooms. So why not get creative and enhance your home's unique identity.
Scale it up
If you have more room to play with, such as an open plan space, and a smooth surface why not enhance your home's sense of scale by laying our Palio LooseLay planks in an oversized herringbone pattern?
The result will be full of character and is sure to draw plenty of compliments. We promise.